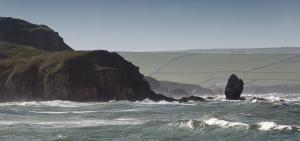 Marine Conservation
Area of interest
Marine Conservation
Devon's spectacular coastlines are among our greatest environmental assets, which is why the protection of our estuaries and coastal waters is so essential.
However, in recent decades Devon's marine environment has been significantly adversely impacted by human activity. Just 20% of Devon's estuaries and 66% of its coastal waters are now assigned 'good' status, the remaining are 'moderate'.
The main pressures are industrial pollution, run-off and sewage contamination, sea level rise, over-exploitation of fisheries, and plastic pollution. These all contribute to degraded, fragmented, and lost marine habitats and reduced ecosystem resilience.
The DEF supports projects that seek to conserve and restore Devon's diverse marine habitats – via initiatives such as expanding and strengthening Marine Protected Areas, marine permaculture, aquaculture, seagrass restoration, sustainable fisheries, eco tourism, pollution prevention, plastic clean up, and much more.
We particularly welcome projects that aim to share learnings and best practice to replicate their successes and scale their positive impact to other areas, to maximise the benefits to nature.