Impact Update: Our first 18 Months
We hope you've had a brilliant start to 2022.
We've been taking stock as we mark 18 months since launching our mission to suppport NEW vital grassroots nature regeneration projects in Devon.
Our vision is to protect and restore at least 30% of land, rivers, and sea in Devon 'for nature' by 2030, and every project we fund moves us closer to this goal.
Nature-based Solutions tackle both the climate and nature crises – providing positivity, joy, and HOPE in these challenging times.
Stand-out DEF examples include:
Since our launch in summer 2020, DEF has supported a total of 22 grassroots projects to address the climate and nature emergencies in Devon, awarding more than £280,000 of grants.
We've compiled an infographic summarising the impact we've had so far: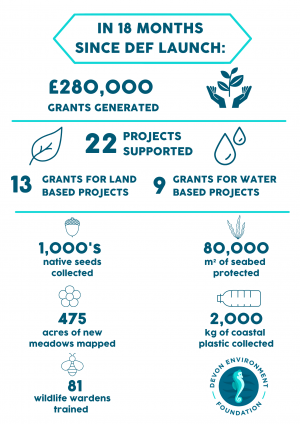 Problem with applepie_make_image(): Missing parameter or 'id' attribute
You can view all the projects we've supported to date here.
If you're keen to give back to nature, and enable us to fund even more incredibly important Nature-based Solutions in 2022, you can make a donation here or get in touch to support us in other ways.
Thank you, as ever, for all your invaluable support!