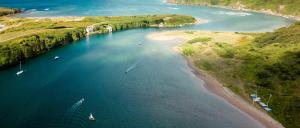 Grants
Landscape Regeneration
Regenerative School
15,993.60 awarded
The final piece of funding required to enable this inspirational project to grow the next generation of regenerative farmers to launch.
DEF initially gave the Apricot Centre a small grant to analyse and share the data collected showing the difference made by five years of farming regeneratively on this previously conventionally farmed land. They have run several farm tours to share learnings and inspiration with farmers and many people interested in regenerative farming. Read about their key findings here.
When we saw the benefits of the Apricot Centre's approach – for the land, wildlife, climate resilience, their business, and the community – we asked them what they thought would be the most impactful step they could take to help reach the goal of 30% of Devon for nature by 2030.
They identified the need for more people to learn how to farm regeneratively, and said they would love to explore the possiblity of launching a Regenerative School of Land Based Studies, with a heavy focus on the practical element (4 days on the land/in the business, and 1 day in the classroom) to make it accessible for people that aren't in a position to partake in an academic course.
DEF stepped in and funded the feasibility study, the certification of the qualification, and now this is the final piece of funding required: the start-up costs to have it ready for launch in Jan 2022.
Our support has unlocked a bigger piece of funding from Devon County Council's Natural Capital Challenge Fund , which will enable the course to be delivered – training 20 apprentices in the first year with a Level 3 qualification in Regenerative Land Based Studies.
DEF is so excited by this project, and the potential that relatively small amounts of funding (just under £36,000 spread over four grants) has to unleash exponential positive change for nature.
The project's impact will unfold over the decade, starting with the first 20 apprentices that receive practical training to gain regenerative agriculture skills, and then rippling out over the years to the land they tenant/own/practice on, and the customers/suppliers/friends they interact with.
To find out more about the course, see here.