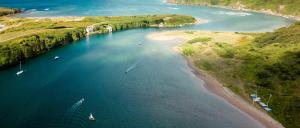 Grants
Marine Conservation
Seaweed Farming
£25,000 awarded
DEF is delighted to be extending our support of the pioneering seaweed farming project, Biome Algae, for a second year.
Seaweed farms have the potential to sequester carbon, increase biodiversity, clean ocean water, and provide an abundant sustainable natural material that can be used for human or animal food, medicines, packaging, and as an innovative material for clothing, accessories, etc.
Year One: focussed on the proof of concept, improving the farm model, farming one species, measuring the benefits of the farm on the marine environment, engaging and educating the public about seaweed farming, and obtaining additional site licenses.
Year Two: will focus on scaling up the farm across multiple sites, trialling different species, measuring carbon sequestration, and automating processes.
DEF has added £25,000 to our original social loan (favourable conditions for the lender) to enable this leading seaweed farming company to establish. Loan repayments will be 'recycled' as future grants to support more environmental projects in Devon.
We are excited to be supporting Biome Algae as they scale up.
Biodiversity benefits of seaweed farming:
"When we were monitoring the seaweed as it grew, it was clear to see that the seaweed canopy was teaming with life – from brittlestars and crabs to limpets and amphipods, as well as other seaweed types. In turn, this supported a whole host of different baby and juvenile fish. It was exciting to see this living ecosystem created in a place where seaweed had not previously been! And we know that as those fish and animals got bigger, they would be entering the natural habitats close to the farm."
– Dr Angela Mead, Marine Biologist and Founder & CEO of Biome Algae