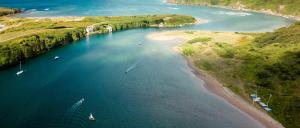 Grants
Marine Conservation
Torbay Seabed Regeneration
£15,000 awarded
A project to reduce and mitigate the negative impacts by the fishing industry in Torbay by working collaboratively with local stakeholders, particularly the fishing community, to remove derelict fishing gear from the seabed.
As an extension to the surface-level Litter Free Sea project in Brixham, this project will focus on the sea floor, tapping into local diving and free-diving expertise to retrieve lost fishing gear to reduce harm to marine life, and enable natural regeneration of the seabed, while educating the wider community.
The project will encourage greater interest in the underwater world generating eco-tourism opportunities; promote collaboration between environmental groups and fishing groups to minimise future gear loss; provide University research opportunities for new techniques, materials, and technology to prevent future loss of equipment; and kickstart a local "report and recover" scheme in the bay to retrieve lost gear as quickly as possible.