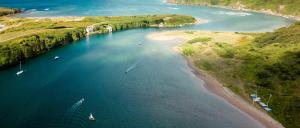 Grants
Marine Conservation
South Hams Marine Life Rescue
£5,000 awarded
An urgent project to fund essential safety and rescue kit for a team of qualified volunteer Marine Mammal Medics for BDMLR (British Divers Marine Life Rescue) to deal with increased strandings and entanglements in the South Hams region.
Currently when a seal, dolphin, or whale is in trouble on the South Hams coastline, volunteers receive a text from BDMLR HQ, and if they are available to attend, they call to offer their service.
Rescue and safety kit for the whole of Devon's North and South coasts are kept in Tiverton, which volunteers spend their own time and fuel getting to, which is a two hour round trip from the South Hams – not optimal for the volunteers or the marine life in distress.
The BDMLR South Hams project aims to raise a total of £16,260 to fund a trailer of movable kit in the South Hams so they can get the kit to the location quickly, optimising the chances of good outcomes for marine wildlife. The funds will also enable ongoing medical and safety training for volunteers.
Sadly, there are more call outs every year due to increased plastic pollution in the sea, and increased storms caused by climate change. The good news is that more people want to help, so there is great potential to ensure more stranded, entangled, or sick marine wildlife get the care they need.
DEF is contributing £5,000 to kickstart this project, and encourage others in the community to match-fund with donations too. Supporting this project will enable more marine mammals to survive, making their population numbers more sustainable in the longterm.
DEF also funds upstream solutions to remove plastic pollution and Nature-based Solutions mitigate climate change.
This video features a recent marine stranding incident highlighting the urgent need for local equipment in the South Hams area (from Monty Halls Instagram).