Impact Update: Seaweed Farming
In September 2020, DEF provided a social loan to Biome Algae to enable them to launch a pioneering off-shore seaweed farming trial – aiming to prove the environmental, economic, and community benefits of kelp farming in Devon and Cornwall, to help them scale along the UK coast.
Here is a mini update on the project so far…
PROGRESS – NOVEMBER 2020 to JULY 2021:
A trial seaweed farm was installed in St Austell, Cornwall.
The site license was successfully changed to full consent for seaweed farming.
Seeded lines were deployed at the trial site.
Ecological research and survey work was undertaken to assess the benefits of the farm, findings will be shared at the end of the trial.
The farm was assessed for farm design and growth rates.
Seeded lines were harvested and the resultant seaweed dried.
Biome state-of-the-art farm model was updated and refined.
Developed social media presence and partook in a number of podcasts and radio interviews.
Developed strong relationships with partners along value chains who have solutions or wish to develop solutions for plastic alternatives.
Started to develop a formal carbon code for the UK seaweed industry with an organisation that has achieved the same for forests and peat.
Started the process to gain Food Standards Agency approval and certified Organic status for their seaweed.
Applied for ASC-MSC certification status and if successful, would be the first seaweed farm to attain it in Europe.
Became a partner working with the charity 10percentfortheocean – focused on ocean recovery.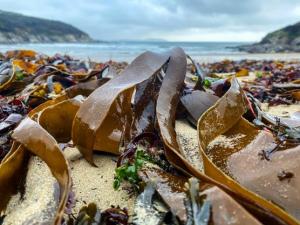 FORTHCOMING PLANS:
Preparing resources for the community outreach program (schools and education packs /community and DEF webinar events) – to be delivered in September/October  2021.
Completing the Marine-i due diligence process to unlock a grant – which will enable underpinning research on their seaweed and extracts. Research will be conducted between September 2021-September 2022.
Plans to re-plant at the trial site for season 2, including trials of new species high in alginates and cellulose.
Completing the licence application process to secure a 100 Ha farming site in Devon for operation from October 2022.
Extract research to be shared with DEF and Biome partner, Vivobarefoot, (textiles, 3D printing, and packaging teams) to ensure requirements are aligned.
Involved in an EU Horizon consortium bid alongside a mycelium company, Notpla, and several prominent UK and European partners to create a number of mycelial and seaweed-based solutions for festival-related items, from food/drink containers to printed materials, tickets and other plastic-alternative solutions. (Biome will introduce Vivobarefoot as partners).
Forming another consortium focussing on creating a seaweed/bio-material robust paper pouch design that can be scaled in size and be a potential solution for Vivobarefoot packaging for customer deliveries. The pouch will have an organic design, and be truly circular by preventing ocean plastic waste, using a solution from the ocean – it will be fully bio-degradable /ocean-degradable.
Going forward, Biome will need to raise £27,000 match funding to unlock the £58,000 grant from Marine-i, which has been guaranteed to Biome provided they can provide the match fund and have adequate funds available to run the  project over 12 months. This will fund the essential baseline research – extraction of a range of  compounds from Biome seaweeds that can be used for substitution of plastics and plastic polymers. The extracts can be applied to  produce bio-textiles, packaging and 3D printing. The research will identify the extracts, determine qualities and qualities of extract and help to produce a blueprint for multiple extraction in a unique Bio-refinery design.
Biome Algae is grateful to DEF for crucial support in its pilot year:
"Without DEF, Biome Algae would not have succeeded in coming so far. We would not have successfully completed a very valuable pilot year where many lessons were learnt in the world of seaweed farming; raised community awareness of its benefits; or be in a position to continue as an ethical company providing seaweed to help solve societal problems – from ocean restoration, to plastic substitution, and carbon mitigation. DEF gave us the kickstart we needed."
– Angela Mead, Founder & Managing Director, BIOME Algae Ltd
Photos courtesy of Biome Algae.