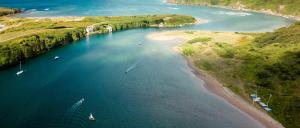 Grants
River Restoration
Yealm Estuary to Moor
£1,500 awarded
Yealm Estuary to Moor (YEM) Wildlife Corridor is a pilot project led by Yealm Community Energy in partnership with West Country Rivers Trust, and many stakeholders in the local community.
The aim of the YEM project is to link fragmented habitats, such as wetlands, woodlands and species rich grassland, along the River Yealm from coastal estuary to moorland source, to create a continuous in-river and riparian wildlife corridor.
The project will do this through restoring existing habitats currently in poor ecological condition, creating new habitats where possible, improving connectivity in-river by easing barriers for migratory fish, and increasing biodiversity along the course of the River Yealm.
DEF's support at this key stage will enable the YEM project to evolve from being a desktop study to start being delivered with tangible impact on the ground.
Our grant will pay for water quality testing kits for the volunteers (West Country Rivers Trust CSI Water Monitoring Packs) and the training for three leaders to coordinate the volunteer groups in water and terrestrial monitoring.
DEF's grant will act as a seed fund to allow YEM to start the work and demonstrate to other funders the importance and need for the project, providing tangible, measurable outcomes from the start by testing at the pilot sites.
The YEM Scoping Study details the full ambitions of the project. Page 36 highlights 'next steps' (water and terrestrial monitoring) which DEF's grant will kickstart.
Images courtesy of South Devon AONB.
UPDATE SPRING 2023: Some key achievements from this project include:
Restoring existing habitats
Creating new habitats
Improving wildlife connectivity
Increasing biodiversity
Increasing education and awareness around these habitats!
Read more here: Mini Impact Update 2023 – Yealm Estuary to Moor