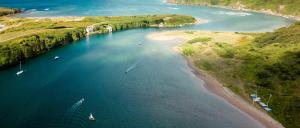 Grants
Landscape Regeneration
Wild About Devon
£6,500 awarded
Wild About Devon is a new initiative to help communities and Parish and Town Councils take action for wildlife to help tackle the Climate and Biodiversity Emergencies.
Watch this 3-minute animation that summarises Wild About Devon on YouTube.
There are many inspiring examples of communities taking action for wildlife across Devon (such as the brilliant Teignbridge Wildlife Wardens which DEF funded).
However, until now we have lacked a central place to connect these communities to share best practice, learning, and networks – so they can inspire other communities to take action too.
Wild About Devon has been set up by the Devon Local Nature Partnership and their partners to fill this gap and help create a Nature Recovery Network across Devon.
Many community groups want to take action, but need small amounts of money to get started – for example to pay for some expert advice, training, or equipment – anything from a rake to a moth trap, or a beekeeping manual.
DEF's grant will provide a fund for small grants that will empower communities to kickstart new initiatives for wildlife in their local areas – such as wildflower meadows, beehives, wildlife wardens, ponds – resulting in much improved and connected habitats springing up around the county.
Wild About Devon is overseen by Devon County Council's Ecology team which co-ordinates the Local Nature Partnership (LNP).
DEF's funding pot will be administered by Devon Communities Together, an organisation that has the skills, resource, and infrastructure to administer small grants to community groups.
UPDATE SPRING 2023:  This project has had such a wide range of impacts, by helping local communities take action for wildlife to help tackle the climate and biodiversity emergencies – to read more, have a look at our mini impact update here!