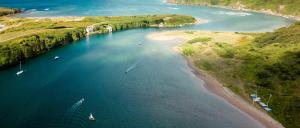 Grants
Marine Conservation
Save Our Seagrass
£9,000 awarded
Seagrass is a vital marine habitat. It absorbs carbon dioxide 35 times faster than a tropical rainforest and protects coastal communities by stabilising sediments via its dense root systems.
Seagrass also provides nursery grounds for juvenile fish and supports a wide range of other species, including seahorses.
Unfortunately, damage from dredging and anchoring, and poor water quality has caused the UK to lose over 90% of its seagrass meadows in the last century.
Wild Planet Trust's Save our Seagrass project aims to protect seagrass meadows through a holistic strategy of community engagement and ecological monitoring – working in collaboration with local stakeholders to increase knowledge and understanding of the local marine environment and the most effective ways to protect it.
DEF funding will enable Save our Seagrass to continue monitoring work to gain further understanding of the health of Torbay's seagrass meadows, coupled with an ambitious advocacy campaign to spread awareness of the problems seagrass faces to reduce local human impact.
This will be through:
Action: maintaining a volunteer-led monitoring programme for seagrass habitats across Torbay, including dive surveys and monitoring the impact of seagrass-friendly moorings.
Conservation: producing an evidence base to support future investment into new practical conservation tools to monitor the health of the seagrass.
Education: increasing awareness of the importance of seagrass in the local community and among visitors to the area.
Images courtesy of Wild Planet Trust.