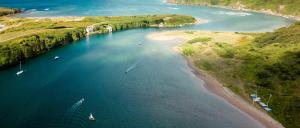 Grants
River Restoration
Crayfish Hatchery
£10,452 awarded
The white-clawed crayfish is the UK's only indigenous freshwater crayfish and has seen a decline of over 70% in the South West in the last 50 years.
The sharp decline in the species has been driven by habitat degradation, pollution, changes to water quality, but primarily the introduction of the invasive, non-native signal crayfish and its associated pathogens.
With only two remaining populations of white-clawed crayfish in Devon, time is running out to save these remarkable creatures. As well as being a keystone species, these fresh water eco-warriors are key to cleaning and restoring parts of our freshwater pathways.
Wildwood Devon's white-clawed crayfish hatchery project aims to restore population numbers and eliminate the threat of extinction.
With the support of the DEF, Wildwood Trust in Devon will set up phase 1 – the hatchery and nursery. The hatchery will provide a refuge for up to 20 female crayfish – also known as berried females due to the way they carry their eggs on the underside of their abdomen.
Once the baby crayfish have hatched, they will be raised at Wildwood Devon before being released to other safe ark sites and into the River Creedy to be monitored as part of the Creedy Catchment Crayfish project.
It is expected that the hatchery at Wildwood Devon will support up to 500 viable crayfish for release each year to help restore the Creedy catchment and improve water quality, species diversity and ecosystem health.
To find out more about this project and more about the conservation work that Wildwood Trust does please visit www.wildwoodtrust.org.
Images courtesy of Dr Jen Nightingale and Charly Mead.