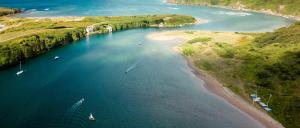 Grants
Marine Conservation
Till the Coast is Clear
£30,000 awarded
DEF is delighted to announce that we will be supporting Till the Coast is Clear for another year, thanks to generous contributions from two of our key partners – Rockfish, who serve up locally caught sustainable seafood, and a private donor, Keld van Schreven, who is passionate about funding tangible, scalable, Nature-based Solutions.
Till the Coast is Clear is a brilliant community plastic pollution clean-up scheme, led by DEF's local hero, Gary Joliffe, involving adventure-style beach cleans using a rib and a fleet of kayaks to access hard-to-reach areas of rivers, estuaries, and coastline and clear them of plastic waste.
Gary recently featured on Channel 5's Coastal Devon & Cornwall with Michael Portillo (from 11.35 – 15.20).
He was also among the regeneration projects showcased in this short film created by another one of our partners, Vivobarefoot minimalist footwear.
We are honoured to be supporting Gary's vital work cleaning up plastic and raising awareness of the need for waste reduction for another year.
Huge thanks to Rockfish and Keld for making this possible.