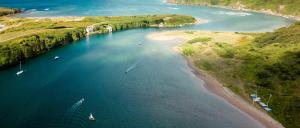 Grants
Landscape Regeneration
Apprentice Academy
£6,000 awarded
The Apricot Centre's 'big vision' is to fill the skills gap, and grow the next generation of regenerative farmers by offering a practical two year, accredited, residential training course.
They required funding from DEF to undertake a feasibility study to enable phase two launch of the Apprentice Academy, that has the potential to unlock significant change for farming in Devon.
The vision is to offer a two-year training programme in which apprentices spend four days a week on various farm placements, engaging with the day-to-day work of real farming, gaining authentic experience through work based learning; and one day a week in accredited training.
Apprentices would receive a stipend, food from the farms and accommodation together. There is currently very little practical training in regenerative farming methods in the UK. Potential regenerative farmers usually follow many years of conventional agricultural learning, pieced together with personal study and experience.
Currently there is a gap in the supply of trained regenerative farmers. Once the Academy model is established it could be replicated in the other areas of Devon. It will also raise expertise in the region to help take up ELMS.