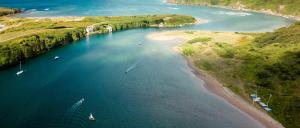 Grants
Landscape Regeneration
Kingsbridge Climate Action
£4,800 awarded
Kingsbridge Climate Action (KCA) is a grassroots group that has been running since early 2020, powered solely by volunteers. In order to continue its vital work – keeping climate change and biodiversity loss on the local agenda, and inspiring action and behaviour change – some paid hours are required to implement a range of ambitious and exciting projects.
The group aims to ignite community engagement and to amplify action for climate and nature in Kingsbridge, recognising that there is a real need for this in the town. They draw inspiration from neighbouring towns such as Ivybridge, Totnes and South Brent, who have well-established and impactful environmental groups.
To meet their strategic goals for 2023, KCA required funding for some paid hours to build capacity and enable the committed and sustained work required to galvanise action within the community and achieve meaningful impact.
The group aims to deliver a range of outcomes including: reducing carbon footprints, promoting the circular economy, increasing awareness of local threats to biodiversity, promoting nature connection, and protecting and restoring nature locally. A highlight in the calendar is the Kingsbridge Festival of Nature being held in partnership with Devon Wildlife Trust, 10-18 June 2023.
This project was enabled thanks to generous co-funding from the Devon Community Foundation, match-funding from Halleria Trust, and in-kind contributions from KCA.
Image of Kingsbridge Repair Café volunteers, courtesy of Kingsbridge Climate Action.