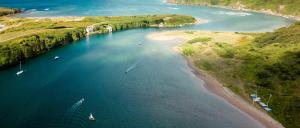 Grants
Marine Conservation
Discovering the Cove
£8,500 awarded
Discovering the Cove is an exciting project designed to connect a local school and its community with nearby wild spaces – raising awareness of the importance of local coastal habitats and wildlife species.
The Cove Project and 365 Sea Swim Challenge are partnering with Furzeham Primary School in Brixham to create a conservation garden inspired by the local coastal environment on the school premises.
In addition, they will introduce the children to local coastal wildlife and habitats through a series of presentations, workshops, and field trips to Churston Cove, and share underwater footage of the wonders that lie hidden just a few metres from their local coast – developing a replicable model that other schools can adopt.
The school currently has no green space and aims to increase environmental education for their pupils and awareness in the wider community.
One of the project's deliverables will be to encourage the children to creatively produce artwork, poetry, and stories for a campaign to share conservation messages with the wider community. These will be displayed around the school and presented to their families in assemblies and through various social media channels, and made into leaflets, signage and promoted through stakeholder and community channels.
A big thank you to Rockfish for funding this project.
Images courtesy of The Cove Project and 365 Sea Swim Challenge.