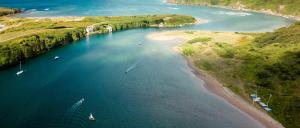 Grants
Landscape Regeneration
In Moss and Moor
£5,620 awarded
Art and Energy CIC devised the innovative 'How to Bury the Giant' project – In Moss and Moor – to explore creative ways to regenerate peatlands with the communities who live nearby, with the aim of discovering whether this participatory approach can be delivered at significant scale.
The project experiments with using place-specific sphagnum moss and local fleeces to help improve areas of wetland on three sites in Dartmoor. They will grow the moss, some of which will be in felted wool, with three local schools and up to fifty additional interested individuals.
Knowledge sharing and planting events will return moss and wool to the wetland and sites which will be monitored over six months for evidence of success. If successful this can be replicated and scaled to help engage more local communities in restoring vital peatland areas.
In Dartmoor, only 1% of the original peat-bog is healthy and it will take a massive effort from many organisations to help it regenerate. This collaborative work will celebrate the peatlands and hopes to help to regenerate them with those that live and work there.
Partners, schools and communities will make tiny jam jar mossy worlds, creatively experiment with growing place specific sphagnum moss, and making local fleece felt to help restore parts of the moor that have been damaged.
Wetlands on the moors are some of the UK's most important landscapes for carbon sequestration. Mosses bury carbon in the ground as peat, so preserving and repairing these places helps to meet the climate challenge while enhancing water quality and biodiversity.
Images courtesy of Art and Energy CIC.
UPDATE MARCH 2023: To read more about the impact of the Moss and Moor project, have a look at our mini impact update here.
UPDATE MAY 2023: See Moss and Moor's interim report here.
UPDATE JULY 2023: See Moss and Moor's final report for phase 1 here.