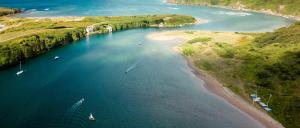 Grants
Landscape Regeneration
Plymouth Pesticide Awareness
£15,600 awarded
Enabling Pollenize CIC to create an awareness campaign highlighting the issues of pesticide use in Plymouth and its impact on pollinators to encourage pollinator-friendly action in the city.
Using a range of media, tools and resources, audiences will be inspired with positive messages and tangible solutions to reduce and replace pesticide use, culminating in a final event in the summer for key local stakeholders and the general public, featuring expert speakers and a 'pesticide amnesty' – the opportunity to swap chemicals for seeds (ensuring the chemicals are disposed of safely).
The legacy will be at least one Pesticide Free Street, and resources and a template for more streets and towns in Devon to replicate the campaign and reduce or eliminate pesticide use to the benefit of people, wildlife and particularly pollinators.
Pollenize are partnering with several key local stakeholders including: Greenminds (Plymouth City Council), Environment Plymouth, Pesticide Action Network, Devon Wildlife Trust, and Butterfly Conservation.
N.B. The Environmental Funders Network's report 'Where the Green Grants Went' (page 10) highlights how projects addressing toxics and pollution attract just 1% of environmental grant funding and are referred to as a 'Cinderella' issue (Exec Summary) because they receive the least attention from funders, but deserve far more due to their impact. DEF is seeking to address this by supporting this project.
Image courtesy of Pollenize, Chris Parkes.