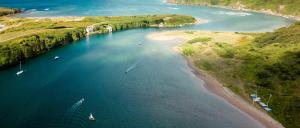 Grants
Landscape Regeneration
Two Moors Pine Marten Project
£10,000 awarded
A vision to restore pine marten populations to the woodlands of southwest England.
The absence of this charismatic native species has left local ecosystems without a vital, functioning part. As predators of small animals, pine martens play a crucial role in balancing nature, especially in our woodlands.
The return of pine martens to this area would be a positive step in restoring local wildlife in these challenging times, while providing an iconic symbol of recovery for our woodlands that inspires people to take positive action for nature.
Devon Environment Foundation is helping to fund the feasibility study required before possible pine marten releases can begin – engaging the community and volunteers to gain support.
If this first stage is successful, the release phase would aim to establish self-sustaining pine marten populations on Dartmoor and Exmoor, from where they could recolonise surrounding woodland and expand naturally.
Images courtesy of Devon Wildlife Trust (C) Mark Hamblin / 2020 Vision.