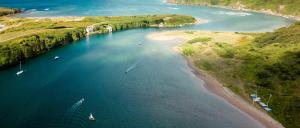 Grants
Landscape Regeneration
In Moss & Moor – Phase 2
£10,000 awarded
DEF's In Moss and Moor project explores creative ways to regenerate peatlands with the communities who live nearby, with the aim of discovering whether this participatory approach can be delivered at significant scale.
Phase 1 of the project engaged more than 600 people at school and community events, and an audience of more than one million via TV and other media, while it transplanted sphagnum mosses at five key Dartmoor sites. Now DEF is supporting Art & Energy CIC to deliver Phase 2.
Phase 2 key deliverables:
amplifying the project by working with farms to grow sphagnum moss at scale
collaborating with students and scientists at the University of Plymouth to measure impact and better understand what carbon has been /can be sequestered by translocating sphagnum moss*
holding community outreach meetings to share the science and art of carbon sequestration
working with Dartmoor National Park and the Foundation for Common Land to encourage greater learning on farms and commons through the John Muir Awards scheme
enabling the exchange of knowledge between farmers, landowners, and the Southwest Peatland partnership
developing a 'Mossy Carpet' (created from upcycled wool textiles) to provide a visual and tactile tool to inspire participants to understand more about moss's role in regulating climate and sequestering carbon, and encourage more people to get involved
telling the story of how tiny mosses bury carbon in the ground as peat, so looking after precious moorland landscapes helps tackle climate change by reducing atmospheric carbon, while improving water quality, and supporting biodiversity
* Even if the translocation experiments prove it is not possible to restore the moor this way, the project will have increased local understanding of the importance of moss and peatlands.
This project provides local communities with a tangible way to get involved with tackling the climate and nature emergencies, helping to overcome eco-anxiety and inspire hope and wider action.
See our 1 min film about In Moss and Moor HERE.
Big thanks to Olympus Power who generously enabled this project.
(Photo credits: Art & Energy CIC)