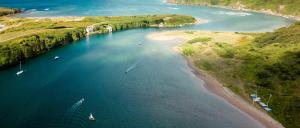 Grants
Landscape Regeneration
Swift Boxes
£7,230 awarded
A project to restore Devon's Swift population. Swifts are now a red-listed species, with numbers having declined by 60% in the past 25 years. Living in roofs, swifts have suffered from the conversion of derelict buildings, and the building or renovation of more energy-efficient, impermeable homes.
To address this, Devon Birds plans to make and install cabinets into 12 village church towers, with each cabinet housing up to 20 swift nest boxes, along with audio lures playing swift calls. The purpose is to entice more breeding pairs to nest, to increase the population.
Electronic audio lure calls have been proven to dramatically increase success, as swifts breed in colonies, so they need to think there are other swifts present. If a new colony is kickstarted in a village church, then all the other nesting boxes in the village are more likely to be occupied within a few years.
The project will include community engagement talks to gain wider support and interest in helping swifts and encourage more people to install swift boxes in their homes.