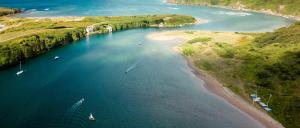 Grants
River Restoration
Devon Beavers
£20,000 awarded
Supporting the work of the Devon Wildlife Trust and the Beaver Trust in Devon.
Specifically, on the River Tamar where there are now growing beaver populations, DEF helped to fund the establishment of a Tamar Beaver Management Group which plays a vital role in communicating the benefits of beaver dams and how they will change local ecology (by reducing floods and droughts, increasing water quality, enhancing biodiversity, and sequestering carbon); while addressing any conflict between landowners and beavers by responding quickly with practical mitigation interventions (such as dam removal or modification, tree protection, flow device installation, and temporary electric fencing to deter beavers from accessing a particular area).
As beaver populations spread, the learnings from the Tamar Beaver Management Group will be replicated in other catchments to increase understanding of the great value of having beavers present, and to reduce the potential for landowner conflict by acting quickly to prevent damage to infrastructure or property.
This project is also being generously supported by our regenerative business partner, Vivobarefoot.