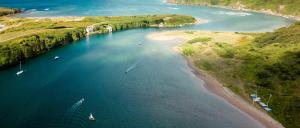 Grants
Landscape Regeneration
Regenerative School
£53,700 awarded
We are delighted to be expanding our support of one of our flagship projects, the Apricot Centre's Regenerative School.
Following the successful pilot of the Level 3 training course in 2022, DEF has helped the Apricot Centre find funding to pilot the Level 4 training in 2023.
The Level 4 diploma in Regenerative Land-Based Studies will enable students to get a deeper understanding of regenerative farming so they are confident in designing their own farms, or consulting to design others, and some may even become future trainers themselves.
This is a completely new course that has the potential to unlock exponential impact, both directly and indirectly, to that the vital transition to nature-friendly land management techniques can accelerate.