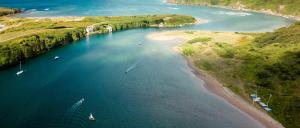 Grants
Landscape Regeneration
Exmoor Tree Nursery
£15,000 awarded
A project that aims to replicate the brilliant Dartmoor Moor Trees model on Exmoor to create resilient native woodland, while engaging local communities, that prevents downstream flooding and soil erosion, and enhances water quality and biodiversity.
The Devon Environment Foundation is pleased to announce a partnership between the 'Caremoor for Exmoor' fund, Devon Community Foundation, and ourselves to fund an exemplar tree nursery on Exmoor, that once established could be further replicated by Moor Trees in multiple locations across Devon and beyond.
To meet National Tree Strategy targets, around 100,000 – 150,000 trees will need to be planted per year on Exmoor for the next 25 years. The new Exmoor Moor Trees Nursey is not intended to meet all this demand, however it will be an important source of high quality local tree saplings, derived from seeds gathered locally with the help of local communities.
The nursery will provide trees for the upper catchments of the rivers Exe and Barle (both owned by the Exmoor National Park Authority) which flow southwards out of Exmoor, through Mid-Devon and Exeter to reach the sea at Exmouth. These are known as 'flashy' rivers in their upper catchments during rainfall events, contributing to downstream flooding in communities across Devon. They currently comprise mainly open moorland, but the establishment of native riparian woodland within the steep combes around the headwaters will reduce the risk of downstream flooding, erosion, and downstream siltation, benefiting aquatic ecosystems and water quality.
Locally distinctive species which may be better adapted to local conditions are generally not available from commercial nurseries, such as wych elm, aspen, black poplar and whitebeams. The plan is to use seeds gathered locally to increase representation of local, declining varieties.