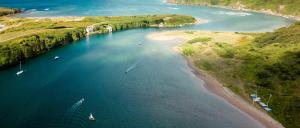 Grants
Marine Conservation
Till the Coast is Clear
£16,400 awarded
We are delighted to be supporting Till the Coast is Clear for a further year, thanks to another generous contribution from one of our key partners, Rockfish, who serve up locally caught sustainable seafood.
Till the Coast is Clear is a brilliant plastic pollution clean-up scheme, led by Gary Joliffe, involving adventure-style beach cleans using a rib and a fleet of kayaks to access hard-to-reach areas of rivers, estuaries, and coastline to clear them of plastic waste.
They have set up a network of seven pick-up points in remote locations along the South Devon coast between Plymouth and Torbay and have recovered more than 16,000 kg of ocean plastic, recycling as much plastic as possible via the Net Regeneration Scheme.
We are honoured to be supporting this vital work cleaning up plastic and raising awareness of the need for waste reduction for another year.
Huge thanks to Rockfish for making this possible.
Images courtesy of Till the Coast is Clear.
IMPACT UPDATE SPRING 2023: This project has resulted in 20,000kgs plastic waste being collected from the sea, with 8 pick up points now established! Discover more on this Mini Impact Report .