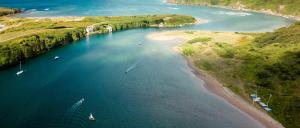 Grants
Landscape Regeneration
Moor Trees
£20,000 awarded
A grant to help the successful South Devon operation, Moor Trees, to scale-up and increase their annual production of native tree saplings from 50,000 to 60,000 per year.
Moor Trees is an independent charity dedicated to restoring woodland across Dartmoor and South Devon, improving the environment and connecting people with nature.
Moor Trees specialises in organising volunteers to collect, plant, and grow native tree seeds in community nurseries, and then planting the locally grown broadleaved saplings, increasing tree cover across Dartmoor and South Devon.
DEF's grant will help to increase the number of trees grown and planted to meet the demand to restore more woodlands and hedgerows, which bring many benefits such as reduced soil erosion and flooding, and increased wildlife habitat and carbon sequestration.
This funding will enable Moor Trees enhance their financial viability by providing a larger revenue stream so they will be less reliant on grants to fund their core expenditure, and can also deliver improved activities such as advisory service to landowners, working with volunteers, teaching horticultural and woodland surveying skills, and engaging with vulnerable groups.