Earth Day 2023: Invest in Our Planet
Earth Day falls on 22nd April every year, providing an annual opportunity to celebrate initiatives that protect and restore the natural world.
This year's Earth Day theme is 'Invest in Our Planet', which resonates deeply with Devon Environment Foundation's approach: channelling funds to the most innovative and impactful grassroots nature-based solutions in our county.
The climate and biodiversity crises are intertwined, and nature-based solutions enable us to tackle both issues simultaneously – the ultimate investment for people and planet!
Sadly, the UK is one of the most nature-depleted countries in the world, but David Attenborough's 'Wild Isles' shows there is still plenty worth saving!
Of course we must continue to do all we can to minimise our negative environmental impact, but we can do even better. We supercharge our progress when we invest time and money in nature-based solutions that regenerate nature.
Nature-based solutions are incredible because they enable us to tackle many complex and inter-related environmental challenges at once. They sequester carbon, increase biodiversity, prevent flooding, droughts, and soil erosion, and help to reduce or clean-up pollution – all while providing people with hope and inspiration in these challenging times.
A 2020 WEF report found that expanding areas for nature conservation and regeneration yields a return of £5 per £1 spent.
Meanwhile, a March 2023 report revealed that protecting and restoring wildlife in abundance would sequester enough CO2 to keep  temperatures below the 1.5 degree tipping point.
"Nature must be at the heart of our fight to save the planet. People must harness nature's extraordinary powers to turn the tide on climate change." – Sir David Attenborough, COP 26
DEF is part of a global network of local foundations directing funds to grassroots projects that protect and restore nature.
Here in Devon, we provide vital kick-start or scale-up support to the most promising local nature-based solutions.
We are independent and unbureaucratic, filling a funding gap for smaller, experimental projects, getting funds where they are needed quickly.
Our Advisory Board of leading local nature experts ensures we fund projects that will deliver the greatest benefits for nature.
Since our launch in July 2020, we have supported 47 brilliant grassroots projects tackling the climate and nature crises in Devon, awarding more than £630,000.
Some of the inspirational nature-based solutions we've enabled to date include: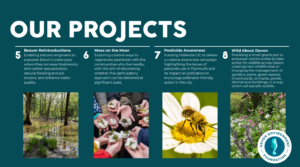 You can see all the grants we've awarded here.
And read our latest impact update here.
WHAT'S NEXT?
Our priority is to increase the amount of funding available for local, tangible, nature-based solutions by inspiring more people and organisations to get involved.
We aim to encourage more grassroots regenerative projects to start-up, or scale-up, by providing mentoring, expertise, connections, and vital financial support.
Your support would enable us to seed even more nature-based solutions; while showcasing project successes that ignite hope and wider action, and accelerate systemic change.
To add your support, you can make a donation or get in touch to support in other ways. We are hugely grateful!